ELTRA® Thermostep ML
Thermogravimetric Analyzer for Organic and Inorganic Analysis
ELTRA TGA analyzers are an ideal alternative to standard laboratory ovens and muffle furnaces for thermogravimetric analysis.
The TGA T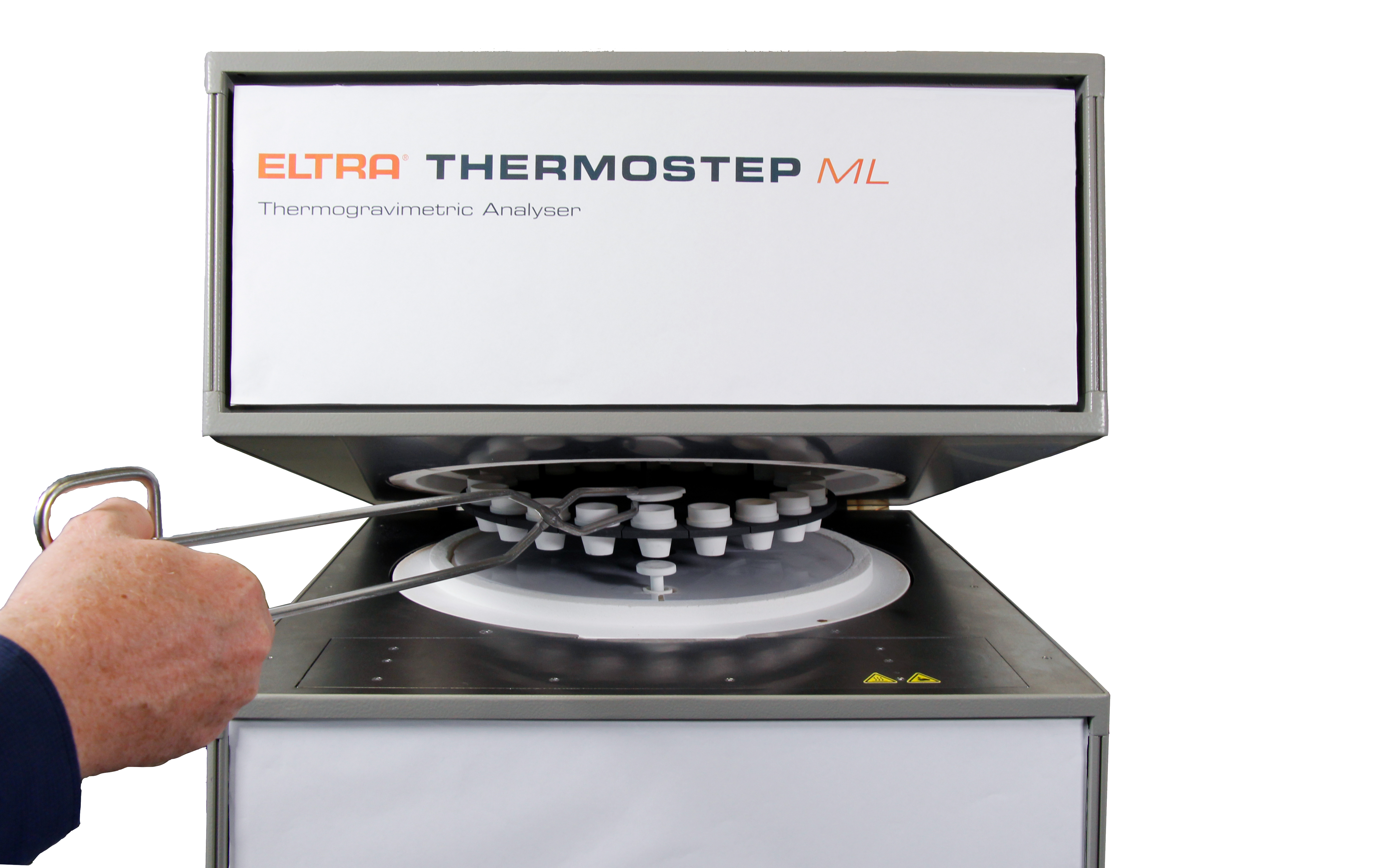 hermostep ML processes up to 19 different samples, typically weighing between 500 mg and 5 g, in one analysis cycle. The surrounding atmosphere and temperature of up to 1,000 °C within the heating chamber can be freely defined by the user during analysis to create a standard operating procedure. The crucible lids, covering of the samples, can be added or removed at each stage of the analysis, thus allowing for safe and ASTM compliant determination of volatiles in coal samples.
Typical sample materials: Coal, coke, secondary fuels, gypsum, flour, plastics, ceramics and many more.
---
Looking for consumables for your TGA ML? Click here.
---
ELTRA TGA Thermostep ML Brochure


Application Examples
coal, coke, food, limestone, plastics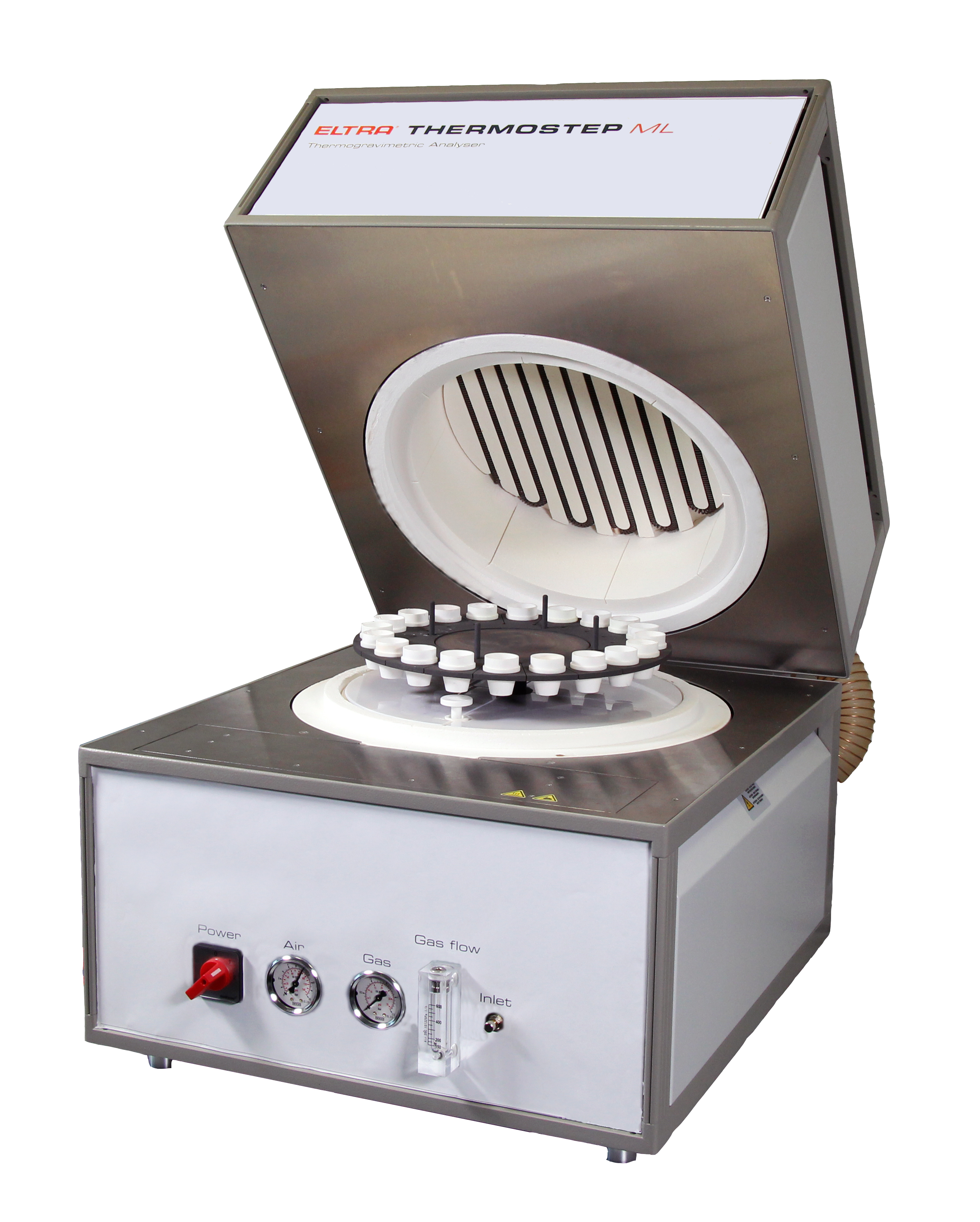 Product Advantages
• Short heating rates, high temperature constancy
• Simultaneous measurement of 19 samples
• Sample weight in macro range (multiple gram)
• Crucible covers to be placed and removed manually during analysis
• Precise, accurate and reliable determination of moisture, volatile, ash content
• Wide range of materials can be analyzed
• Programmable furnace temperature can be set up to 1000 °C in steps of 1°C
• Powerful software (multilingual, customized display, export of results)
• Two thermocouples for precise temperature control
• Balance with 0,0001 g resolution
• Low maintenance
• Robust design allows usage in production control and laboratory
| | |
| --- | --- |
| Measured elements | ash content, moisture, volatiles |
| Samples | inorganic, organic, synthetic |
| Field of application | agriculture, biology, chemistry / plastics, coal / power plant, construction materials, environment / recycling, food, geology / mining, glass / ceramics, medicine / pharmaceuticals |
| Furnace | resistance heated ceramic furnace, programmable in 1 °C steps from 50 °C up to 1000 °C |
| Detection method | balance |
| Max. number of samples | 19 crucibles + 1 reference crucible |
| Balance resolution | 0.0001 g |
| Balance precision | 0.02 % RSD |
| Gas required | depends on application: oxygen 99.9% pure (2 - 4 r) and/or nitrogen 99.9 % pure (2 - 4 bar) and air 99.5% (5 - 6 bar) |
| Power requirements | 230 V, 50/60 Hz, max. 32 A |
| Dimensions (W x H x D) | 55 x 52 x 62 cm |
| Weight | ~65 kg |
| Required equipment | external exhaust (exhaust diameter: 100 mm / blower with 4m3/min), monitor, PC |